News
GraspOS Chats #4 Get to know Janne Pölönen
20 November 2023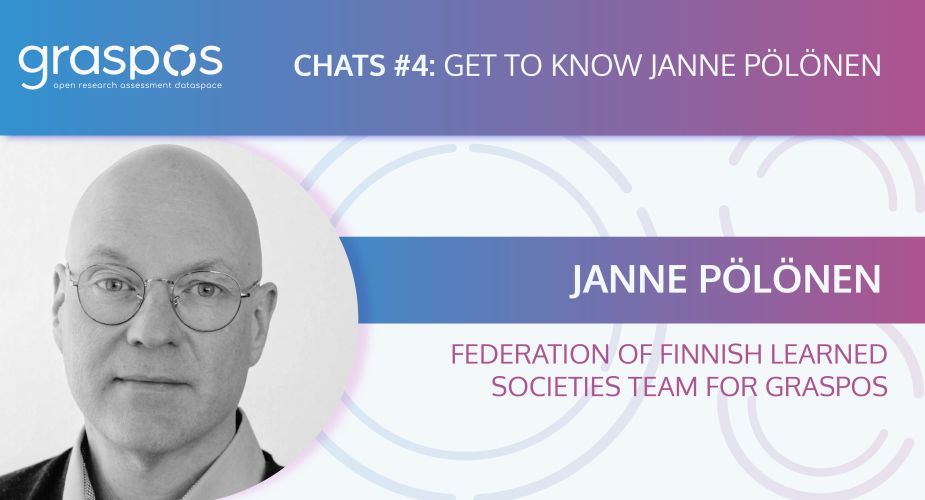 IN THIS SERIES OF INTERVIEWS WE FEATURE GRASPOS MEMBERS TO PRESENT THE PEOPLE BEHIND THE SCENES. WHAT IS THEIR ROLE IN THE PROJECT, THEIR BACKGROUND, AND THEIR VIEW ON THE NEED FOR AN OPEN SCIENCE-AWARE RESPONSIBLE RESEARCH ASSESSMENT SYSTEM?
We had the pleasure to chat with Janne Pölönen from the Federation of Finnish Learned Societies (Tieteellisten Seurain Valtuuskunta - TSV) about his activities in GraspOS, the need for an Open-Science-aware Research Assessment system and the current challenges in advancing the reform of research assessment. You can also find him on Twitter, Mastodon, and Linkedin.
Janne works as the Secretary General of Publication Forum at TSV. TSV is active in Open Science activities in Finland and is leading the landscape analysis for an Open Science-aware Responsible Research Assessment (RRA) framework in GraspOS and contributing to the establishment of the Open Science Assessment Framework (OSAF). TSV also contributes in testing the tools and services to support Open Science-aware RRA and in developing related training activities.

JANNE, COULD YOU GIVE US A LITTLE MORE INSIGHT INTO WHAT YOU DO IN GRASPOS?
I lead the TSV team that is responsible for conducting the Work Package 2 landscape analysis, the purpose of which is to support the development of Open Science Assessment Framework (OSAF). The landscape analysis builds on a survey of European organisations and extensive document analysis to identify current OS assessment practices, qualitative and quantitative data priorities, and associated implementation obstacles. The OS-aware RRA approaches landscape report has been made available here.
CAN YOU TELL US MORE ABOUT YOUR BACKGROUND, AND HOW YOU GOT INTO OPEN SCIENCE?
My academic background is twofold. In 1994 I started training in history in Oulu (Northern Finland) and ended up studying ancient Roman law and society for more than ten years in Rome and Paris. I investigated how inherited wealth was divided between men and women, or socio-economic status conditioned access to justice, in the Roman Empire around 50 BC - AD 250. Making sense of very disparate, biassed and sporadic ancient narratives in light of comparative models from other societies was a lesson on the benefits of qualitative and quantitative evidence.
After returning to Finland, I have worked since 2010 at TSV developing a community-curated classification of peer-reviewed journals and book publishers, which supports the performance-based research funding system of Finnish universities. Since the beginning, our steering-group and expert panels have discussed the evaluation of Open Access journals. I have also closely followed the development of TSV's OA publishing platform (www.journal.fi), and the challenges of Finnish journals in transitioning to Open Access publishing. Open Science in the broadest sense has been part of my work during the past five years, since the introduction of the National Open Science Coordination at TSV.
Now in my role as the Secretary General for Publication Forum I am also involved in policy work, such as the Helsinki Initiative on Multilingualism in Scholarly Communication, the National recommendation for the responsible evaluation of a researcher in Finland, and the Policy for Open Scholarship. Also my recent research is in the fields of bibliometrics, scholarly communication, research assessment, open science and learned societies.
Desk at the TSV office, photo by Janne Pölönen
WHY DO YOU THINK WE NEED AN OPEN SCIENCE AWARE RESEARCH ASSESSMENT SYSTEM? WHAT ARE THE CHALLENGES TO ACHIEVING POLICY REFORMS?
Research assessment steers research organisations and researchers by creating expectations that certain behaviour will be recognized and rewarded in terms of resources and positions. Open science movement cannot reach its goal to improve the quality and impact of research within and beyond academia if collaboration, transparency and accessibility of research are not properly recognized and rewarded, let alone if incentives are conducive to the opposite direction. For example, Open Science aims "to make multilingual scientific knowledge openly available, accessible and reusable for everyone" (UNESCO). Yet assessments may recognize only peer-reviewed articles published in journals indexed in Web of Science (WoS). In order not to be disadvantaged in funding and career opportunities, researchers may avoid effort to publish books or articles in languages not covered in WoS journals. Users needing access to research-based knowledge in those languages are excluded from the benefits of science. According to our survey respondents, the assessment reform has to overcome several challenges: complexity, costs, resistance, implementation, as well as lack of awareness and evidence of benefits.
WHAT ARE THE ACTIVITIES YOU ARE CURRENTLY WORKING ON IN THE PROJECT?
In the past months TSV team was fully engaged in the drafting of the OS-aware Responsible Research Assessment approaches landscape report, which was one of the first deliverables of the project. It has been one of my tasks to analyse the results of the landscape survey. The questionnaire was structured based on CoARA core-commitments and principles that set a shared direction for changes in assessment practices for over 500 organisations that have signed the Agreement on Reforming Research Assessment. A total of 54 full responses were received from organisations from 19 different European countries. We are grateful that so many respondents took the time to answer the questionnaire and contributed to the overview of the state-of-the-art assessment practices, priorities and challenges. Another task I am also working on is an analysis and summary of over 800 statements concerning responsible assessment we have collected from over 80 policies, initiatives and recommendations.
WHAT ARE THE ASPECTS YOU'RE MOST EXCITED ABOUT REGARDING THE FIRST DEVELOPMENTS OF THE PROJECT?
To kick-start the project in January, it was exciting to meet in Athens the representatives of 18 partner organisations from 10 countries who collaborate in GraspOS for the common goal of offering data, indicators, tools, services and guidance to support the implementation of Open Science-aware responsible research assessment approaches. It has been really great also to see the early alignment and synergies between GraspOS and OPUS EU projects, as well as the collaboration among the partners and many other CoARA members who joined forces to propose CoARA Working Groups to address key reform challenges. Naturally, I am also excited about seeing our landscape report come to materialise thanks to the great effort by the whole TSV team - Anna-Kaisa, Dragan, Elina and Marita - and the GraspOS colleagues!
FINAL QUESTION, WHAT IS THE ONE THING THAT YOU DESPERATELY NEED IN YOUR DAILY WORK ROUTINE?
This was a tough question, because at first glance it seemed that the only regular feature of my daily work is that I do not have many routines. Then I figured that one routine I most desperately need is the lunch break at a restaurant. Bon appetit!
Sami Syrjämäki (left) and Janne Pölönen at lunch, photo by Janne Pölönen
Thank you for the interview, Janne!
Photo in the top image: Janne Pölönen profile picture, photo by Henriikka Mustajoki
Written by
Lottie Provost
This email address is being protected from spambots. You need JavaScript enabled to view it.